VHS Video tape to DVD conversion - Adelaide, South Australia.
Do you have old video tapes lying around?
Wedding videos, holiday and travel videos, family home movies, and sporting videos, gathering dust and losing quality? We can convert your video to DVD or digital today!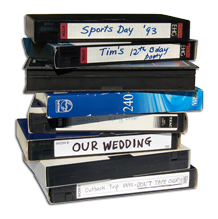 Don't hold off any longer! Convert your old VHS tapes to DVD or digital video files today for longer lasting life and superior quality.
The conversion of VHS to DVD ensures that your videos will last longer than a lifetime. The digital DVD format retains quality unlike video tape, where quality is steadily degraded after each viewing.
What You Get with our Video Conversion:
Safe & High Quality Conversion Process
Your footage passes through special equipment to minimise tape jitter
Boosting of colour & brightness where needed
Editing out of tape static and accidental recordings
Adding of DVD chapter markers
Your footage optimised to the best quality for DVD
Personally designed DVD cover and label
Compiling of multiple videos on a DVD, and up to 4 DVDs in a multi-disc package
Optional further editing
Repair of damaged & broken video tapes (usually $30)
Additional DVD copies for $15 each
We Convert from the following formats and tapes:
VHS video tape to DVD

(PAL and NTSC formats)

Camcorder tape transfer to DVD - VHS-C, MiniDV, Digital-8, Hi8 and Video8
Betamax and Beta video to DVD transfer
Professional video formats - Betacam SP, U-matic SP Hi- & Lo-band, DVCAM and S-VHS to DVD
DVDs and virtually all video file formats
.MTS, .m2ts, AVCHD and hard drive camera files
Mobile Phones, iPhones, VCD and CD
We transfer and convert video to virtually any format, including DVD video, CD, Quicktime .mov and h-264, Windows Media Video .wmv, DV & AVI, MPEG 2, MPEG 4, .mpg, .mpeg, .m2v & .VOB. Flash and .flv and many more!
---
Alastair Kovacic - Kambah, ACT
I have received the CD's and am very happy with the quality and presentation. I got exactly what I required and more with a very quick turnaround time and at a very reasonable price.
---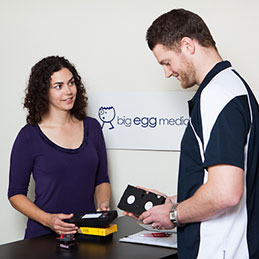 Save your time with our hassle-free service
You can't rely on an old VCR for viewing your precious memories on video without it damaging or chewing up your tapes. Many VCRs are unreliable – yours may not work at all!
Converting your videos can be a fiddly process if you try it yourself. We make it easy with a high quality, hassle-free video to DVD conversion service that saves you the time and bother.
---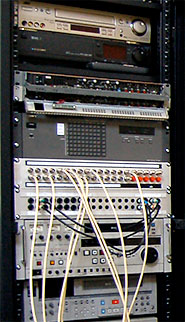 Your precious memories deserve the best
Using professional video equipment, we offer a better quality conversion than what is generally achievable from a domestic VCR or VHS/DVD combo recorder, which is unfortunately what other companies often use. They cut corners, which could lead to a disappointing result - this isn't what your precious memories deserve!
When Big Egg Media transfer video to DVD, we use high quality professional equipment specifically designed to digitally reduce tape noise and correct timecode errors. We can also improve aspects of the picture, such as colour, sharpness, brightness and contrast, as well as removing glitches and other 'artifacts' that gather on your video tapes. We are able to convert both PAL and NTSC format VHS video tapes to DVD.
---

Unbeatable Value
Our video conversion service includes a high quality transfer process to an archival DVD, DVD chapter points, and an attractive DVD menu. We also design a professional DVD cover and label, to personally suit your video.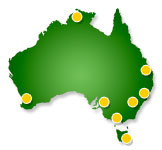 Australia-wide Service
Big Egg Media is based in Adelaide, South Australia, but can easily convert your tapes if you live elsewhere. We recommend and use registered Australia Post to ensure your precious tapes are kept safe.
Prices
Conversion to DVD includes a high quality transfer process, DVD chapter points every 5 minutes,
and a personalised DVD menu, cover and label.
Service
Cost
Video tape to DVD Conversion
prices from $35 per tape
Transfer of Camcorder videos, video cards, SD cards & video files to DVD or video file
as above
Betacamp SP & Umatic video tape to DVD Conversion
$77 per hour of tape,


min charge of $45 per tape

Additional DVD copies

(includes cover, label & case)

$15 per single disc
Video Editing

(e.g. fades, transitions, titles, effects, music, restoration, large amount of footage cutting, etc)

$110 per hour
Motion DVD menu, Professional Cover & Label
from $150
Other Format Conversions
contact us for a quote