Gift Cards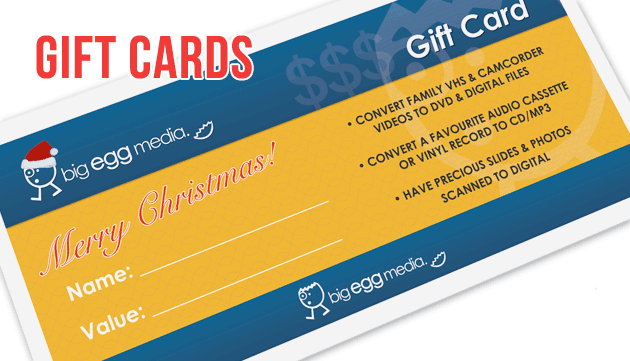 If you're stuck for a last minute gift idea, why not choose a Big Egg Media Gift Card?
We are happy to announce that Gift Cards are now available for all services.
A Big Egg Gift Card is perfect for that friend or family member who has loads of video tapes, slides or photos they've always been meaning to do something about.
You can buy your Gift Card online now, or in store at 178 Payneham Road, Evandale SA 5069. Please don't hesitate to contact us on (08) 7120 9921 if you have any questions or comments.
Terms & Conditions
Gift cards are valid for a period of 12 months from the date of issue. Within the validity period this gift card can be used to make any number of separate purchases up to the value of the gift card, or above the value - in which case the recipient needs to make up the difference.
Additional values cannot be added to an existing card; however, additional gift cards can be purchased. Gift cards must be redeemed in full within the validity period; any unused balance will not be refunded or credited on expiry.
Gift cards are to be treated like cash; defaced, mutilated, altered, lost or stolen gift cards will not be replaced, refunded or redeemed. Any remaining value cannot be given in cash. By placing an order with us, you are agreeing to accept our terms and conditions.