How much does it cost to get my slides scanned?
Do you or your family have loads of old slides that you'd like scanned and digitised?
Big Egg Media have been scanning slides and photos to digital JPG images in Adelaide for around eight years (since 2006), and one of the top questions our customers ask us is "How much does it cost to get my slides scanned?"
Keep reading below to find out…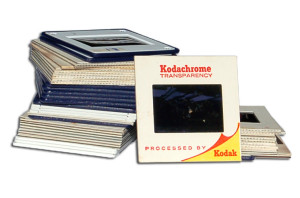 Slide Scanning is Surprising Affordable
The answer is generally straightforward, but can vary depending upon your individual requirements. For the stock-standard, general kodachrome 35mm slide, our normal price is $1.20 per slide. This gives you a high quality scan to JPG image at a resolution of 1200 DPI, which generates an image around 1000 x 1600 pixels. This is a great size for general printing and viewing on a TV or computer screen.
Odd-sized or unusual format slides that require manual cropping may cost more, usually around $1.80 each.
By the way, all our slide scanning services include a surface dust removal and clean, sharpening of each image, and colour restoration if necessary. We scan the images to high quality JPG files, but can also scan to TIFF or PDF formats if required.
Looking To Go Larger?
If you're looking to have enlargements made or need to have a higher quality image, we recommend scanning your slides, photos or negatives to a higher resolution. The next level up is 2400 DPI, which creates an image roughly 2000 x 3000 pixels. This is great if you're looking to create large portraits or prints. Scanning a standard 35mm slide at 2400 DPI costs $2.40 each.
If you're interested (or perhaps confused!), we have a couple of related articles which give more information on all the technicalities:
Getting Massive
In fact, we're also able to scan slides or negatives at 4800 – 6400 DPI or A2 size for incredibly large images – scanning a slide at this resolution will create large image files of around 5000 x 8000 pixels! Costs for scanning at these huge sizes ranges from $5 – $10 per slide.
Let's Get Started!
If you're based in Adelaide, South Australia, simply come into our office to drop your images off. Big Egg Media is based at on Unley Road in Parkside. We're open Monday – Friday, 9am – 5pm.
Visit bigeggmedia.com.au for further information »
If you live interstate in a capital city such as Perth, Melbourne, Sydney or Brisbane, you can post the slides to us, and we will post the completed digitised image on DVD back to you along with the original slides. We recommend and use Australia Post Express Post or Registered Post and sufficient padding to protect your images.
For all photo, slide and negative scanning in Adelaide, we have a minimum job charge of $30.
I hope you've found this article useful. Please leave any feedback or questions below.  Thanks for reading.