Your Website Really is Your Online Shopfront
There was a time when having a brick and mortar location for your business was critical to success. After all, out of sight in many cases really is out of mind. Today, however, even the need for a brick and mortar location might be debated for many types of businesses, take eBay and online banks for example. What is difficult to debate, however, is the impact that the Internet has had on business in general, not to mention the concept individual businesses have of themselves as well as how consumers perceive them.
With a well designed website, especially one that is correctly equipped with e-commerce features, businesses can not only have a bigger presence in the world of online commerce, but they can frequently increase their visibility to a level never before achieved.
What it takes to get to this level is the abilities of experts, not only as website designers, but as those who understand ecommerce and how to use this media to make it count where it counts most: sales. With Big Egg Media you can rest assured that you are taking advantage of not only Internet and web design experts, but those who are experienced at bringing its full power to your business.
Big Egg Media can be the key when you want an Adelaide eCommerce website, and since less than half of all Australian businesses have an online presence, you can, in a very real sense, increase the recognition of your business exponentially.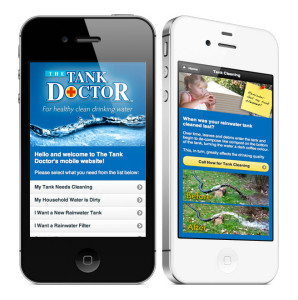 With Big Egg Media and an Adelaide eCommerce website, you can be sure that you have taken full advantage of all the benefits offered by the Internet. Many Big Egg Media clients consider their work a competitive advantage, and why not, since so few businesses are taking advantage of this option for not only promoting their store, but using it like another location.
Adelaide small business owner David White from The Tank Doctor has recently had a new e-commerce website developed with a full online store and mobile friendly website.
"The team at Big Egg Media created a terrific 'mobile version' of our website for use on smart phones. They delivered prompt service and good pricing.

Calls to our business increased almost instantly showing a huge number of people are searching from their iPhones and smart phones to find businesses today, not just from their computers.

A good investment with Big Egg Media, again highly recommended!"

–2nd April 2013
Big Egg Media can show you how to take full advantage of the Internet, and that doesn't mean just a website accessible on home or office computers. Your business can have an Internet presence on all media and mobile devices too, so your clients and customers can carry your store with them in their pockets wherever they go. This includes iPhone, iPad, Android and other smartphone platforms.
Big Egg Media can translate virtually everything about your business to the Web, which gives your customers the ability to take full advantage of all your products and services without even leaving their home or place of business. How can having a brick and mortar location be easier than that?
Big Egg Media are web page designers based in Adelaide, South Australia, developing websites for small businesses and organisations.